BrusselsJobs offers three different types of inexpensive advertising options:
High impact website banner advert options
Targeted advertising for education and courses
Effective weekly newsletter advert options
(And don't forget our sister site EuroBrussels.com, which is aimed at European Affairs experts and expats. We can offer advertising packages covering both websites at attractive rates.)
Website Banner Adverts
Placing a Leaderboard website banner on BrusselsJobs will give you access to this large but still extremely focused audience at very competitive rates.
Your advert is displayed prominently at the top of the site: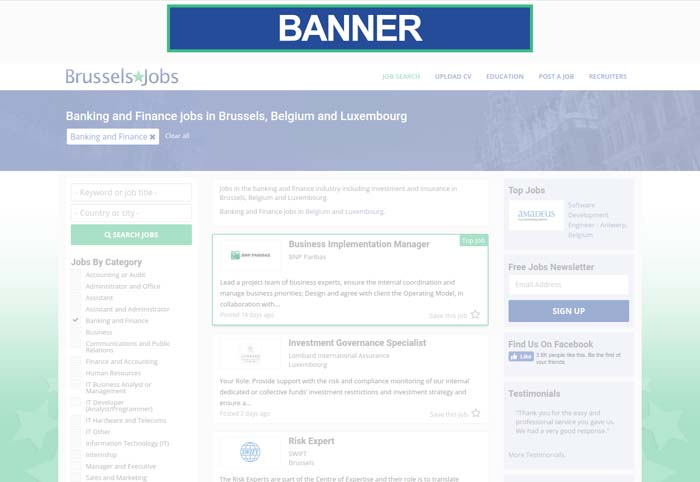 Get listed in our Education & Courses Section
Our Education & Courses page gives you access to thousands of professionals actively looking at career and training possibilities in and around Brussels. That is why universities, colleges, language schools and seminar providers use us to connect with their target group.
We offer different rates according to how long your logo & text advert is online:
3 month listing is 600 EUR
6 months is 1000 EUR
12 months is 1800 EUR
Newsletter Banners
Reach 9 000 focused job seekers in one day, in an email that is read carefully by the recipient every week. Your ad can be placed at the top of this effective news medium - just below the BrusselsJobs logo.
Choose among other possiblities from:
Logo plus Text advert. Text of 300 characters plus logo (120 x 60 px)
Leaderboard Banner (728 x 90 px, <50k)
We offer rebates for multiple orders. Please note text may be adjusted to suit our style.
General advantages
We offer rebates for multiple orders
Advertising at BrusselsJobs follows standard formats in order to preserve our strong brand credibility
We have a large, but focused audience, that you can reach quickly and easily for very fair prices. Your ads can be online within a few hours, giving immediate results
(Please note text ads may be adjusted to suit our style.)
Calendar
BrusselsJobs has a very straightforward weekly cycle for our clients.
Weekly BrusselsJobs newsletter is sent out every Wednesday morning
The web pages are updated every day - no deadlines
Public holidays: We even update during most holidays
Contact Us
We would be pleased to put together an attractive package offer to reach the right audience for you. For all advertising enquires please contact us at sales@brusselsjobs.com.
More details
For any advertising enquires, please contact us at sales@brusselsjobs.com.
To submit your job advert you can fill in one of our online submission forms.
To find out about recruitment, see our Recruiters page.
For more details about BrusselsJobs, see the page About BrusselsJobs.